By Madeleine Abshire, Marketing Associate
As a former teacher, I've found that many educators are wondering how they can transition from teaching to a position in the Edtech world. My recent career change was brought about through networking, about which I always say "meaningful connections bring you to the top of mind." People I kept top of mind when making connections were colleagues, professionals, and other EdTech enthusiasts.
We have reached a point in education where burnout, or teachers looking for a transition in their careers, is a growing trend. Working in EdTech, I have found, provides a similar outcome to being a teacher; the betterment of education and a prosperous future for all students. Consequently, since beginning my role at Partner in Publishing, many educators have reached out to me via LinkedIn, asking how I was able to secure such a role in EdTech, placing me in the unique position of advising former colleagues on how to execute a similar transition.
I have written previously on how certain qualities teachers possess make them valuable assets in the EdTech industry, but I would like this blog to instead serve as a summary of my advice to those who are considering making the switch.
Getting to this point in my career once seemed like a dream, but I knew it was attainable. When applying to EdTech positions, I quickly learned that networking was key. My primary network was already built on LinkedIn, as I made sure to connect with colleagues, professors, and EdTech professionals. When it came to interacting with those who had already entered the industry, I took every effort to expand my connections through their networks, always inquiring for and seeking introductions. Consistent and thorough networking practices like these is what led me to connect with Lisa March, President and Founder of Partner in Publishing.
How did you know your skills were transferable?
When leaving the classroom, my first concern was that the skills I had honed while teaching would not transfer to other job types. I introduced myself to a new mindset by rethinking the word "sales," and what it means to "sell" something. In the classroom, my job was to "sell" knowledge to students, whereas now I sell EdTechlearning solutions. In the classroom, I analyzed data and drew reports to improve student learning. Now I have the honor of doing similar work that results in company growth. So many skills I once thought were solely classroom skills transferred into the Edtech industry quite well.
How did you feel adapting to new responsibilities?
Remaining conscious of my skills as a teacher and bringing them with me to my role at Partner in Publishing was a key aspect of this career transition. However, having not worked in EdTech previously, being open to learning was even more important. Otherwise, for a short period of time, I was the student. Upon beginning my position, I was fortunate to be surrounded by a team of professionals who were eager to see me succeed in my new role. Adapting to new responsibilities meant that I had to be receptive to all feedback, and willing to ask questions to ensure my seamless onboarding process at Partner in Publishing.
How does working in EdTech impact students?
In the classroom, my impact on students was very direct. As a teacher, I was able to impact student achievement by sharing knowledge through meaningful lessons. Now I impact student achievement from an entirely different perspective. Working in EdTech has allowed me to share meaningful products with educators across the country that help their students grow and succeed. As a former educator, I can empathize with teachers on a whole new level; I remember clearly the daily struggles as a classroom teacher, and I am now able to share products to help lighten educators' responsibilities.
Even after such a significant transition in my career, my purpose still feels as clear as ever. The fulfillment of providing the best possible solutions to students and educators brings about a familiar sense, much like providing knowledge to my students on a daily basis.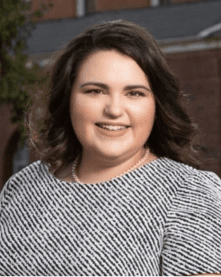 Madeleine Abshire is a Marketing Associate at Partner in Publishing (PIP). As a former K-12 instructor, Madeleine works closely on sales enablement and market research with various EdTech solutions and education stakeholders.